Tom Loockx en Jorrit Hermans van Leo Burnett zijn Belgische Creatives of the Year
Maandag 30 januari 2012 — Merit Award voor Creative Directors Brussels bureau
Brussel – Afgelopen vrijdag 27 januari 2012 reikten het vakmagazine Media Marketing (MM) en de Belgische Association of Communication Agencies (ACC) de Merit Awards uit. Tom Loockx en Jorrit Hermans, de Creative Directors van Leo Burnett Brussel, kregen de prijs als Creatives of the Year 2011.

Een duizendtal professionals uit de Belgische communicatie en reclame verzamelde afgelopen vrijdag in de Brusselse Mirano Club voor de jaarlijkse Merit Awards Night. Het evenement is een coproductie van de ACC, de Belgische Association of Communication Agencies, en het marketingblad Media Marketing (MM). Elk jaar bekronen de Merits ondermeer het beste communicatiebureau, de beste campagne en het beste team. Publicis België werd uitgeroepen tot Agency of the Year. Het team van Leo Burnett Brussels won in zijn debuutjaar als Creative Directors de felbegeerde titel van Creatives of the Year. Onder supervisie van Loockx en Hermans creëerde Leo Burnett ondermeer The Smart Campaign voor Bonux wasmiddel van P&G, de spraakmakende Fiat Cabrio Days campagne die hen 3 bronzen Eurobest Awards en een zilveren Epica opleverde, of recent nog het Out Of Office Poetry project naar aanleiding van Gedichtendag 2012.
Over Tom Loockx en Jorrit Hermans
Tom Loockx (art director, °1974) werkte eerder bij LDV in Antwerpen voor hij Jorrit Hermans (copywriter, °1978) ontmoette bij Boondoggle in Leuven. Bij Boondoggle maakten Tom en Jorrit deel uit van een team dat baanbrekende en innovatieve campagnes produceerde. Zij wonnen 5 Cannes Lions (campagne rond Baby Olifant Kai-Mook voor Zoo Antwerpen), een One Show Pencil in New York, waren D&AD finalisten in Londen en wonnen een tiental nationale CCB awards. In februari 2011 werden Tom Loockx en Jorrit Hermans Creative Directors bij Leo Burnett Brussels.
Over Leo Burnett Brussels
Leo Burnett Brussels wordt sinds oktober 2008 geleid door Managing Director Barbara Vangheluwe. Het bureau telt vandaag een 40-tal werknemers en is gevestigd in het Flageygebouw in Elsene. Leo Burnett Brussels werkt voor grote merken als P&G, Fiat, Jeep, Heinz, Ixina en Samsung.
Merit Awards reel Tom & Jorrit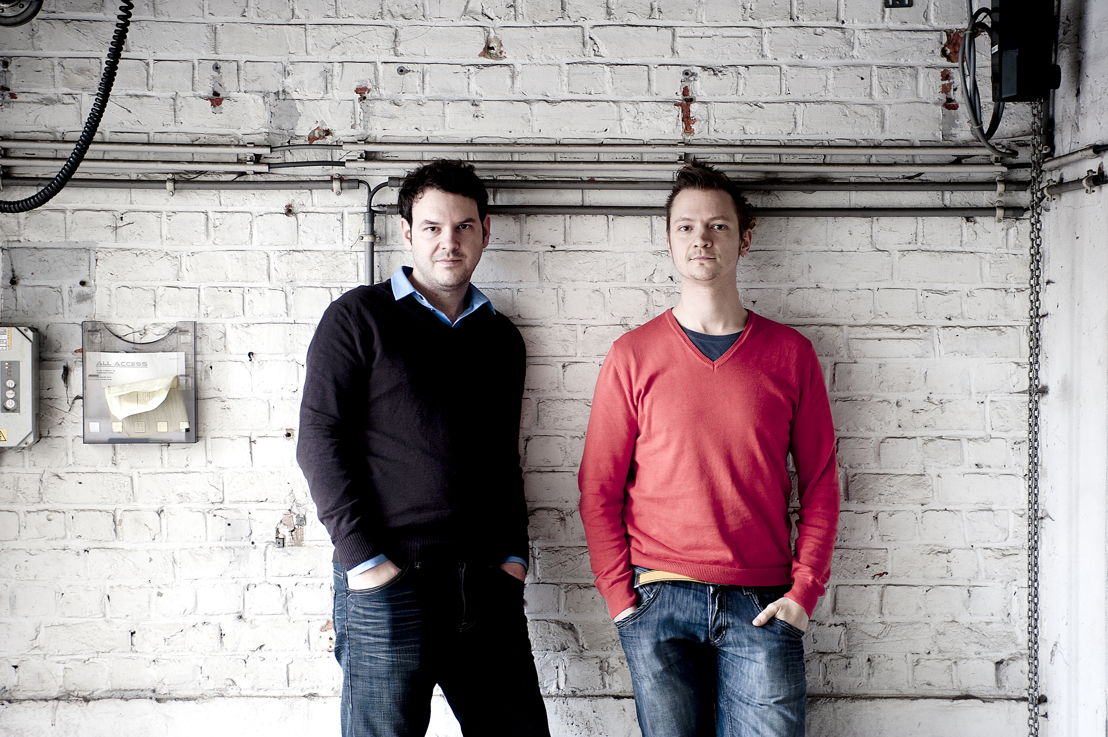 Jorrit Hermans
Creative Director
Tom Loockx
Creative Director