Leo Burnett bedenkt Out Of Office Poetry voor Gedichtendag 2012
Donderdag 22 december 2011 — Bekende Nederlandstalige dichters schrijven unieke poëzie voor out of office reply's
Ter aankondiging van Gedichtendag 2012 creëerde Leo Burnett Brussels voor Stichting Lezen een originele digitale campagne om poëzie onder de aandacht te brengen. Bekende Nederlandstalige dichters als Joke van Leeuwen, Stijn Vranken, Lies Van Gasse, Ester Naomi Perquin en Joe Roxy, het legendarische alter ego van Hugo Matthysen, schreven elk een uniek gedicht als out of office Reply. De gedichten zijn gratis te downloaden en te gebruiken via http://www.gedichtendag.com/outofoffice

Om Gedichtendag te promoten, creëerde Leo Burnett een poëtische campagne. In plaats van te communiceren over poëzie, bedacht het bureau een manier om meer poëzie te steken in de communicatie rond Gedichtendag. Daarbij werkte Leo Burnett samen met dichters die elk een uniek gedicht schreven voor deze actie. het resultaat: Out Of Office Poetry.
De dichtkunst aan het einde van de e-mailketting. Daar waar de inspiratieloosheid toeslaat in de vorm van een droog: 'Ik ben momenteel niet aanwezig op kantoor en heb beperkte toegang tot e-mail'. Vijf bekende Vlaamse en Nederlandse dichters schreven elk hun variant van de autoreply en penden unieke gedichten die u op dichterlijke wijze informeren over de personele bezetting ten kantore. Iedereen die dat wenst, kan de gedichten gratis downloaden op www.gedichtendag.com/outofoffice om ze zelf te installeren als out of office reply. Zo wordt uw eigen out of office reply misschien ook iets poëtischer dit jaar.
Op 26 januari 2012 organiseert Stichting Lezen een nieuwe editie van Gedichtendag met als thema 'Stroom'. Gedichtendag is ieder jaar weer hét poëziefeest van Nederland en Vlaanderen, de dag waarop de poëzie de aandacht krijgt die ze verdient. Overal kom je gedichten tegen: op school, op het werk, in winkels, theaters en musea,. Ook de kranten, radio, televisie én het internet klinken die dag een stuk poëtischer.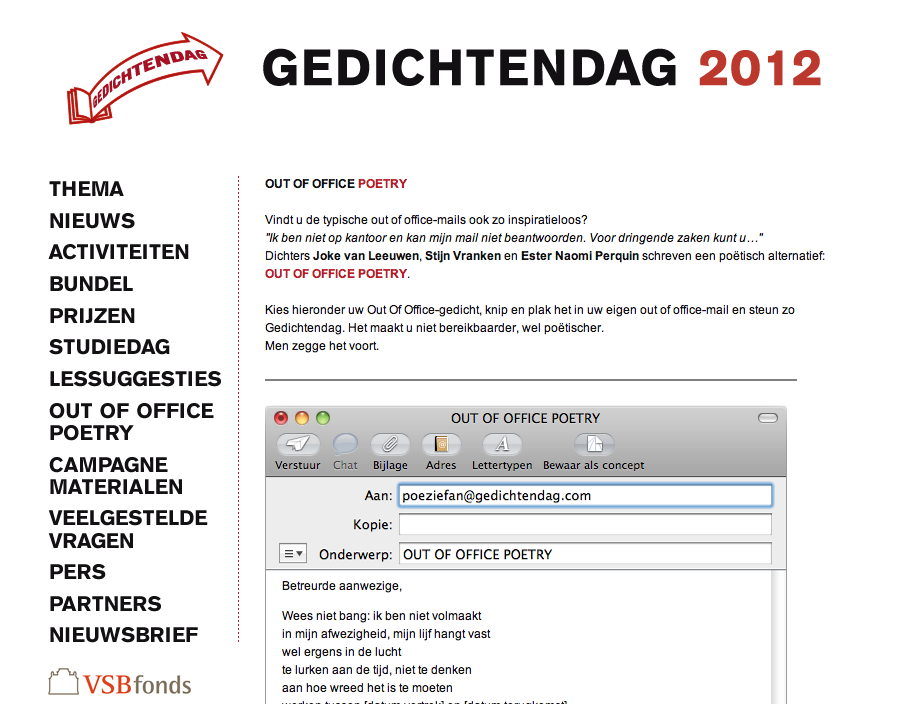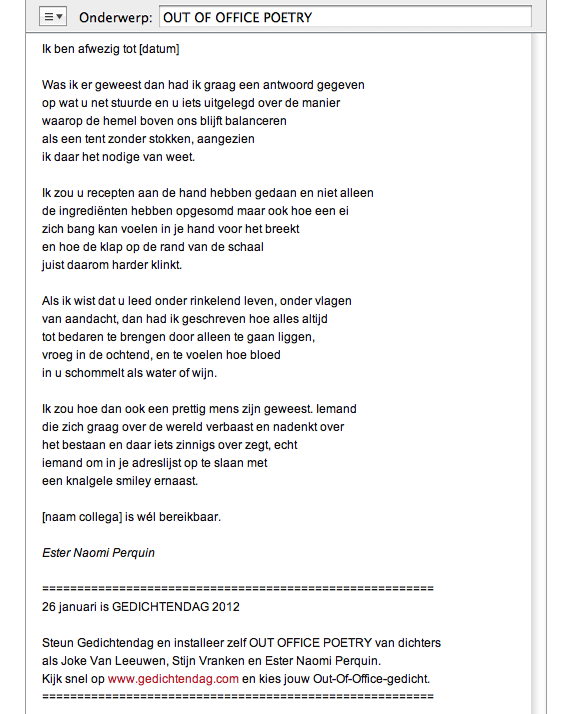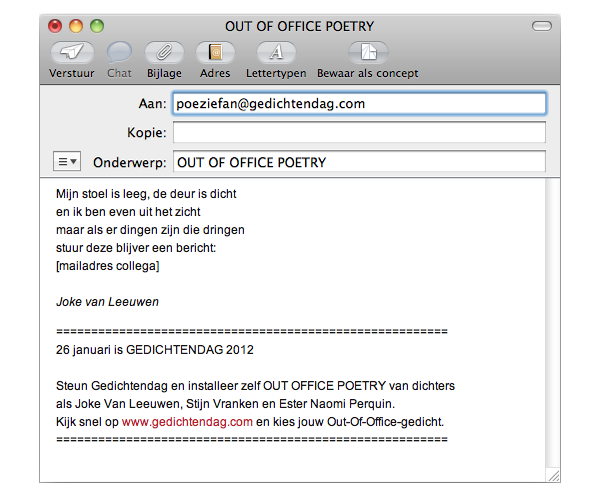 Contacteer ons
Jorrit Hermans
Creative Director
Tom Loockx
Creative Director