Leo Burnett and Samsung with Speed Deals
Sunday, October 2, 2011 — Webgame streams mobile on which free deals are being typed
Leo Burnett Brussels created the Samsung Speed Deals: an online activation to promote the Samsung Ch@t 335, a speedy mobile for youngsters who need fast typing and sharing. A livestream featured the phone, six times every hour a pair of hands appeared on screen and typed another free offer. Only when the hands were typing, surfers could click and win. Once the deal was typed on the phone's screen the offer was no longer available. The Speed Deals were live for 2 weeks and attracted 50,000 participants.


Samsung's Ch@t 335 is a fast and easy to use mobile. Its full keyboard and Samsung Social Hub are perfect for teens who like to text and share. The best way to communicate this, was to demonstrate it. Leo Burnett Brussels came up with a game that allowed participants to win free prizes.
All they had to do was to keep an eye on a livestream that featured a Samsung Ch@t 335. Deals appeared six times every hour on the phone's screen. The first to push a big red button won the offer that was typed on the mobile.
Players registered through Facebook Connect. Every hour, they had six chances to win a cool prize, of which one Samsung Ch@t 335. Results: 65,561 visits, 46,438 unique visitors who spent an average of 4 minutes on the Speed Deals site, 30% returned and more than 600 winners received a great prize from Samsung.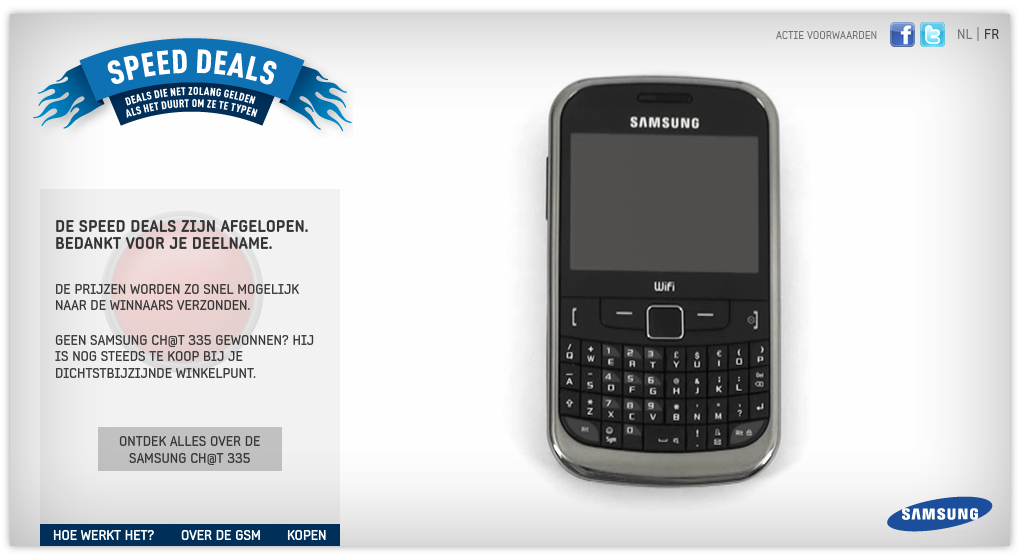 Jorrit Hermans
Creative Director
Tom Loockx
Creative Director